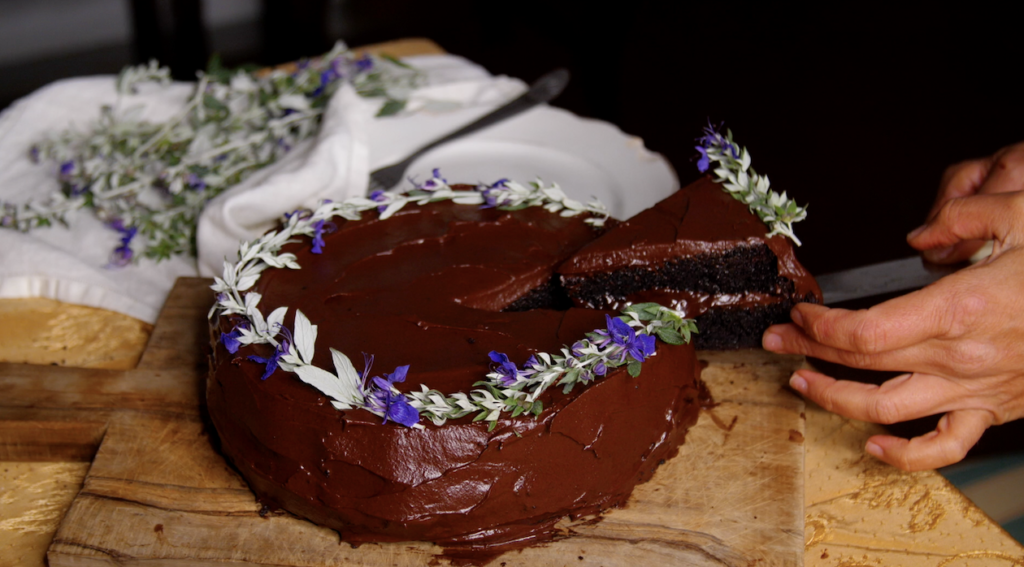 This is it – the most decadent, delicious chocolate cake you've ever tasted. It is easy to make – even kids could cook this one with a little help of a parent. I have spent many years trying different versions of the classic chocolate cake and this is my favourite. The oil and yoghurt keep things moist and the espresso adds a deliciously dark depth of chocolate flavour but you won't taste any one of these three secret ingredients. Lots of recipes advise using buttermilk, which activates the baking soda, but I use yoghurt because I almost never have buttermilk in my kitchen and it's not so easy to find in Italy. You should really try to find cacao powder that is high quality and not with sugar or milk powder or anything else mixed in to make a hot chocolate drink. This is what gives the cake its dramatic dark colour and rich flavour.
You can absolutely cook this in two pans if you have two pans and a large enough oven. That way, you skip the delicate job of halving the cake. I only had the pan you see in the video and, to be honest, it was a little too small. My cake tin was 22cm but I would have preferred to have used something larger like 27cm.
INGREDIENTS:
CAKE
A little butter to grease your cake tin
1 3/4 (219 grams) flour
1 cup (125 grams) cacao powder
1 1/2 teaspoon baking soda
1 1/2 teaspoon baking powder
1 1/2 teaspoon salt
400 grams sugar
3 eggs (room temperature will help your batter)
1 cup (245 grams) natural or Greek yoghurt
1/2 cup oil (I used olive oil because that's all I had but you can use vegetable oil)
1 tablespoon vanilla extract
1 cup of boiling espresso coffee
BUTTERCREAM FROSTING (Note: this makes a surplus of icing because I think it's always best to ice generously but if you're short on ingredients or wanted to skip the middle layer, you could probably get away with half of these ingredients)
1 cup (125 grams) cacao powder
340 grams butter, softened
1 teaspoon salt
4 cups powdered sugar (icing sugar)
1 tablespoon vanilla extract
1/4 cup milk
3/4 cup whipped cream (you know the thickened long-life packs of cooking cream?)
METHOD:
Preheat your oven to 180 degrees Celsius or 356 Fahrenheit and take your eggs and butter out of the fridge to bring to room temperature.
Grease a large cake tin (or two) with butter and cut a circle of baking paper for the bottom.
In a big bowl, sift flour and cacao powder.
Add sugar, baking soda, baking powder and salt and mix well.
Add room temperature eggs, yoghurt, oil and vanilla and mix well but not too much. Just until combined.
Make a pot of espresso or strong coffee and when it is boiling, measure out one cup and add to your mixture. Once cake batters are mixed they need to go into the oven immediately so don't delay – get it in the pan SUBITO!
Bake for about 50 minutes if baking one cake like I did in the video (with some baking paper added to the top to protect it after 20 minutes) or about 35 minutes if baking two cakes.
To make the frosting or icing, beat (or hand-squeeze as I did!) softened butter into the cacao powder. When combined, keep mixing/beating while gradually adding each cup of sugar, then the salt and vanilla extract. Once the sugar is all mixed in, add your milk and cream and beat until it is thick and velvety smooth. I find it best to put the finished icing into the fridge while you're waiting for the cake to finish cooking so that it becomes a bit more dense and spreadable.
LET THE CAKE COOL before cutting in half because the crumb will be more fragile when hot out of the oven. Also, it really must be room temperature because you even think about icing! Did you see how the middle of my cake was oozing a bit with melted frosting in the video? That's because I had to ice it while there was still good filming light – but you can wait a little longer! This cake is soooooo darn good the next day. I even leave it uncovered in the fridge and it simply does not dry out! It is so moist and light but totally rich so one can only really indulge in one slice at a time. I AM EATING IT NOW AS I TYPE AND IT IS JUST GLORIOUS.