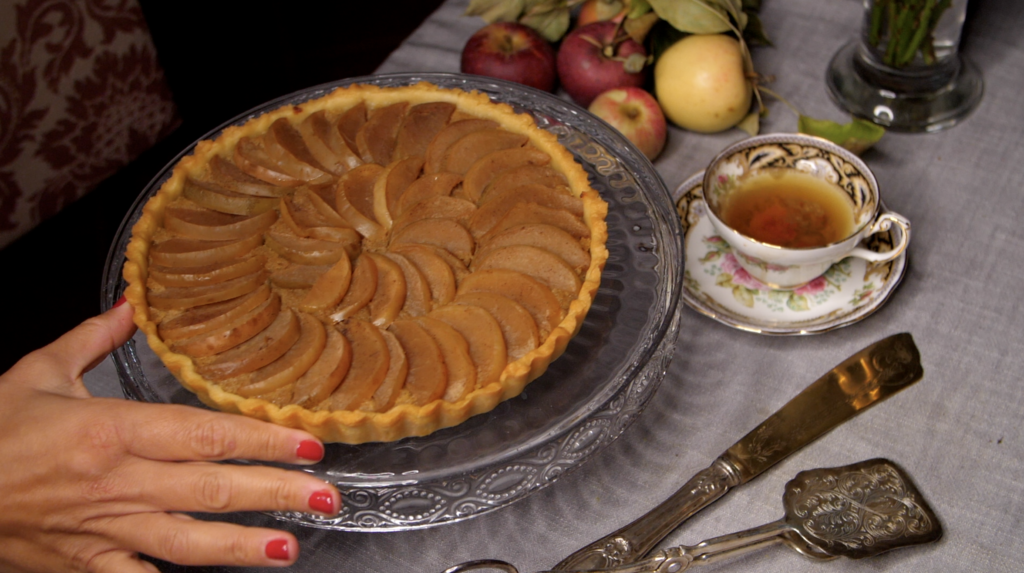 INGREDIENTS
Stewed Apples:
Apples
Cinnamon
Brown Sugar (preferably Demerara)
Water
The number of apples really depends on the size of your pan and how tightly you want to layer your apple slices. I would say a minimum of four apples. I put a good heavy shake of cinnamon and a generous scoop of sugar. Really just enough to lightly coat all the apples. I fill the saucepan with enough water to only cover half the apples because the fruit will reduce down.

Pastry:
100 grams butter
1.5 cups plain flour
3 tablespoons castor sugar or icing sugar
2 egg yolks
water (optional)
Frangipane:
125 grams butter
1/3 cup sugar
2 whole eggs
1 tablespoon vanilla bean paste
1 tablespoon plain flour
1 cup almond meal
1 teaspoon cinnamon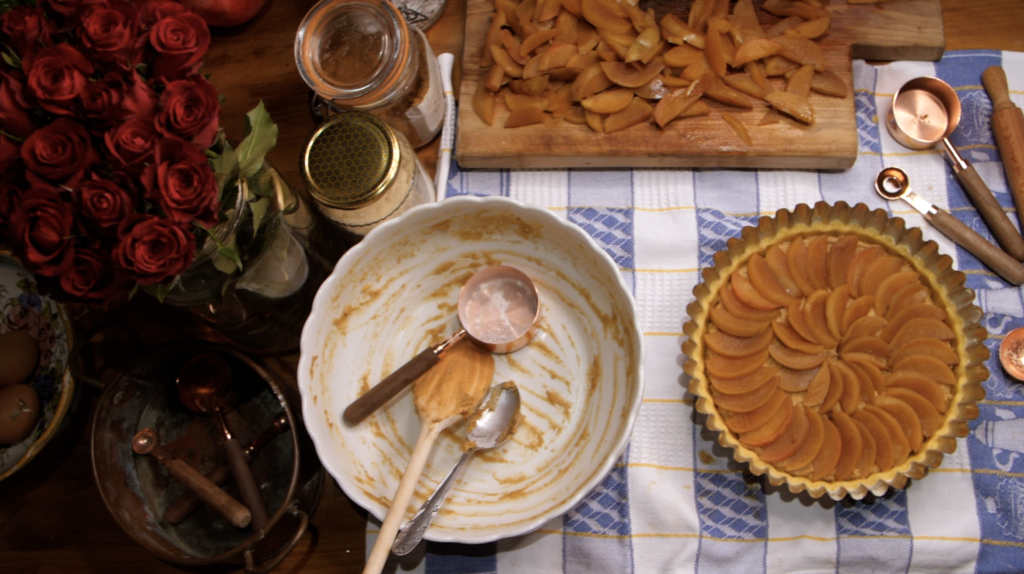 Method:

You may like to make your pastry first so you're using the time it's resting in the fridge to slice the apples, however, I've kept the method below in the same order as it appears in my video.
Cut your apples into even slices and place in a small saucepan with sugar, cinnamon and enough water to cover half of them.
Cook apples on a medium heat covered, stirring occasionally to make sure they are all coated in sugar. I have really heavy copper saucepans so they can take a higher heat but you might want to put yours on low if you have a lighter pan.
In a large bowl, put chopped butter and rub it into flour and sugar with your fingertips until it resembles fine sand.
Add the egg yolks and work into a ball of dough, adding a teaspoon of water only if you're really struggling to bind it all together. Cover and rest dough in the fridge. You don't want to knead it too much or at all because that develops the gluten and makes for a tough pastry.
Let's move on to the frangipane filling. In the same bowl (no need to dirty a second one) cream butter and sugar.
Add two whole eggs one at a time, beating well. Then the vanilla.
Add the flour, almond meal and cinnamon and fold into the wet mixture. Put this aside.
Let's now take the pastry dough from the fridge and roll out as thin as you can (use a wine bottle if you don't own a rolling pin) before pressing into a tart pan with butter edges and a circle of baking paper on the base. If you don't own a tart pan with the ridges, just use a cake pan. You'll notice my tart pan is actually too high for what I wanted so I only made the edges come up half way. You can do the same if you're using a cake pan. If you make extra frangipane and make your tart too high, the frangipane won't cook properly being covered by the apples. Remember to press right into the corners with your fingertips so the crust is even all the way down the edges.
Cover the tart shell well and place in the fridge for as long as possible. Preferably an hour or two.
Preheat your oven to 180 degrees Celsius. Spoon the frangipane into the now chilled tart case and layer apples on top (being careful to drain your apples of any liquid so it doesn't dilute the filling).
Cook for 15 minutes then put a little aluminium cover with a hole in the centre to protect the crust but still allow the middle of the tart to cook and cook a further 20 minutes so about 35 minutes in total. You should see a bit of the frangipane filling rising up through the apples when it is ready but it will still be moist like a tart and not as fluffy as a cake. Only take your tart out of the pan when it has cooled as this is when it's strongest and you won't accidentally crumble the edges while moving it onto a plate. Also… most plates dip in a little so they ruin the flat base of your tart. I would serve it on a chopping board which is nice and flat if you don't own a cake stand. The tart IS A MILLION times more delicious the next day so make it the day before you plan to eat it. Or if that's not possible, at least save some for the next day so you can taste the difference!
NOTE: If you want to go overboard, you could use the leftover apple/cinnamon/sugar liquid that we drained earlier to make a little caramel sauce to drizzle on top. I just put the liquid on a high heat to reduce it down quite a bit, then added about a quarter of a cup of brown sugar and a couple of tablespoons of butter. Stir it in and then let it bubble up and when the sugar has dissolved, add a quarter cup of cream and reduce the heat stirring well. It will seem thin but it becomes thicker when it cooled.