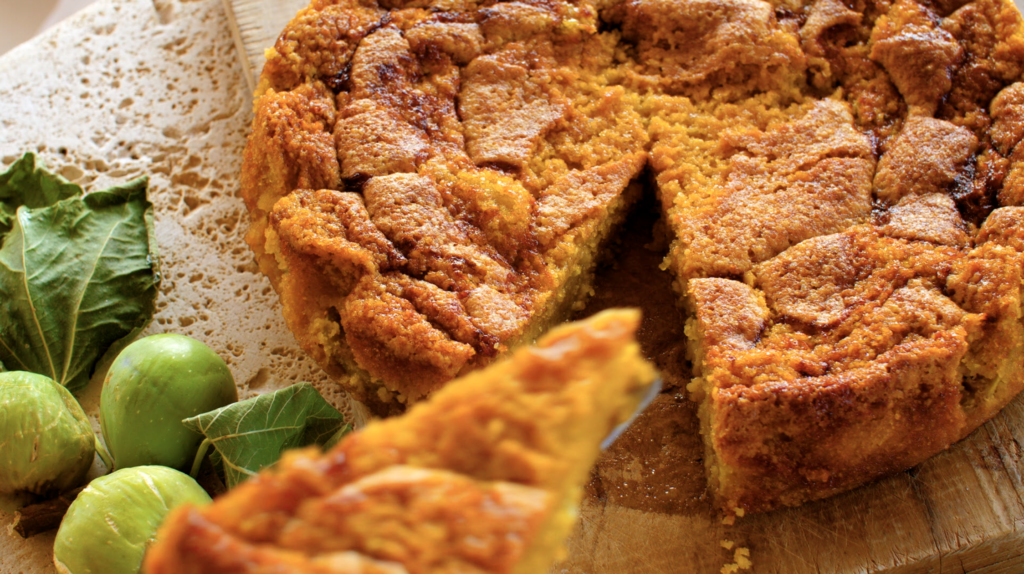 Sorry, I couldn't put this up last night because I finished the video at 1:30am and the Wifi had slowed to such a crawl that it couldn't even open this WordPress page. Anyway, here we are – hopefully not too late for some summer weekend baking!
I've made many almond flour cakes over the years but I wanted to come up with my own recipe to have a perfect go-to option when entertaining. I'm often finding myself with one or two friends in a lunch or dinner party group who have problems with gluten so I started experimenting to create an easy crowd-pleasing recipe that wouldn't be too crumbly, fragile or soggy and wouldn't require any special gluten-free flours, which I find quite difficult to access here in the countryside of Italy. Rustic fruit cakes are so popular in Italy so this is a dessert or afternoon tea cake I make all year round. This month I made it to use all the figs we have in abundance right now, however, you could use peaches, cherries, plums, apricots, strawberries – even canned fruits if you're not living somewhere with access to luscious ripe fruit. The important thing to keep in mind is that fruit in cakes really affects the structure with all the moisture they add so you need to space the fruit evenly so there is enough batter around each piece of fruit to create a decent amount of binding 'cake' so you can cut slices that won't fall apart.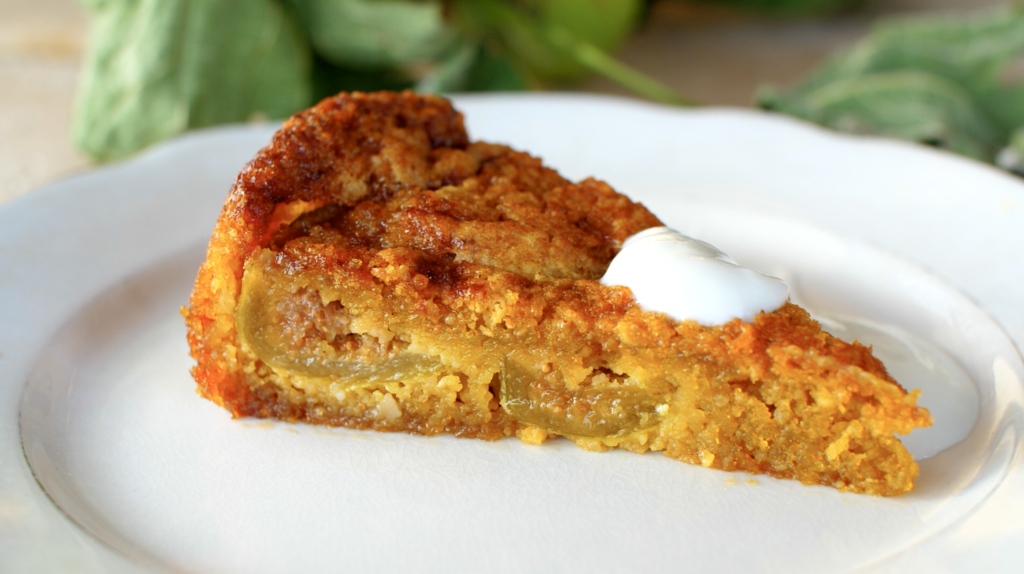 INGREDIENTS:
3-4 eggs (I give you this option because sometimes I find myself missing one egg and feeling disappointed that the whole recipe has to be deferred until I can get to a supermarket. I wanted to experiment with how it would change the texture and I found that the recipe works perfectly fine with only three eggs – it's certainly enough to bind things together. However, to create a bit of extra height, the fourth egg is handy. I used four eggs in the first cake in the video and three in the second.
200 grams brown Demerara sugar (you could use normal white granulated sugar if you can't get darker sugar but I like how it creates a caramelised slightly chewy outer crust of the cake.)
1 teaspoon vanilla bean paste or extract or essence (to be honest, I usually add a little more than one teaspoon because I love the flavour)
1/2 teaspoon salt
1 teaspoon (or a few shakes) of ground cinnamon
1/2 cup olive oil
16 grams baking powder
1 teaspoon cornflour (if you don't have this, you can make the cake without it but it is helpful to create a bit of structure, especially without the help of gluten)
250 grams almond flour (make sure it's finely ground and that you use this full amount because this is the only real dry ingredient here and any less will result in a soggy mess of a cake that can't be properly sliced.)
8-12 fresh figs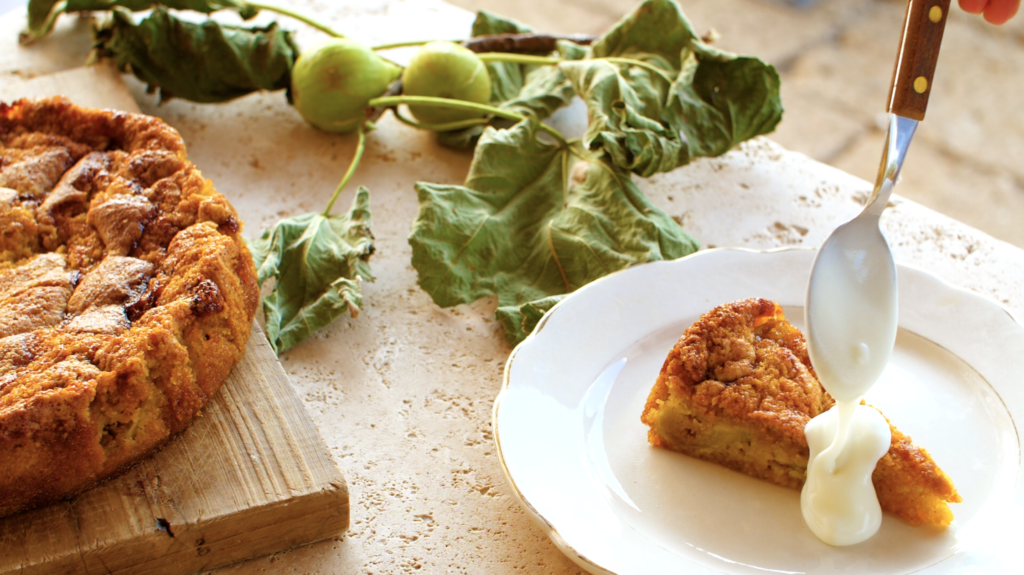 METHOD:
Preheat your oven to 180 degrees Celsius (or 350F) and line a 26cm springform pan with baking paper. If your cake pan is smaller, that's okay. Just be sure to space the fruit a little more widely so that the batter can cook properly.
Separate your egg yolks from the whites. Be sure to choose two bowls with high sides because you're going to need to whisk the egg whites later.
To the bowl with the yolks, add sugar and beat until pale yellow and frothy as shown in the video.
Add vanilla, cinnamon, salt, olive oil and mix well.
Sift in the baking powder and cornflour.
Add the almond flour and mix well. It will feel a bit dry at this point but don't worry, all will be resolved when our egg whites arrive.
At this point I would prepare your figs so they're ready to be arranged (if you're going for the sunken fruit option rather than the second cake I made with the figs on top added halfway through cooking). I just sliced the figs in half. I like to have everything ready to go so that no time is wasted once we have air in the egg whites. The goal is to get that trapped air into the oven immediately so it creates a lovely light cake.
Beat (or whisk by hand) the egg whites until they form soft white clouds that hold their shape in the bowl.
Gently fold egg whites into the yellow batter mixture then pour into the lined pan.
As I explained in the video, you have two options. You can lay the fruit over now before putting it in the oven OR you can cook the cake for 20 minutes and THEN lay the fruit over so that the figs are still visible on top and don't sink into the cake. My parents and Guido went crazy over the first version but then they agreed that the second version was slightly better in terms of the texture because it was a little more firm. I made the second option with one less egg, which is why it's a little lower. It's really up to you. Just space the figs (or fruit) evenly so they are not on top of each other or their moisture will impede the cooking of the batter. These figs are so sweet that there was no need to sweeten them but I guess if you are working with slightly sour hard imported stone fruits that aren't exactly ripe, you could sprinkle a little brown sugar on top to help them caramelise and soften.
Cook in the oven for 45 minutes to an hour. I needed the full hour in a ventilated oven and a little less in a non-ventilated oven. Gluten-free cakes need more time to create a firm crust and cook out the moisture of the fruit.
Once the top is golden and the centre doesn't wobble, you can take it out of the oven to cool for about half an hour. Don't try taking off the baking paper or shifting it onto a plate until the cake has cooled because almond flour cakes are very fragile when they first come out of the oven. If your cake is a little soggy and there is too much moisture, just pop it in the fridge uncovered for an hour or two and this should make it a little easier to cut. However, I found both cakes I made were quite easy to serve so hopefully you shouldn't have any problems.
I like to serve this cake with natural yoghurt because it's quite sweet from the figs and rich from the almonds so the freshness is a very pleasant counterbalance. But it's such a moist cake that you won't necessarily need cream or anything on the side. I would like to tell you how long it lasts but every time I make cake in our house it gets eaten within 48 hours so I will probably never know the answer to that question. 🙂