This is healthy and filling enough to serve for dinner. This amount serves about four to five portions because I like to have some leftover for a quick meal reheated. You can make it without the pancetta to make it vegetarian, however, I have yet to try it without the ricotta. Unlike milk or cream, ricotta adds a really fluffy thick texture, which I adore.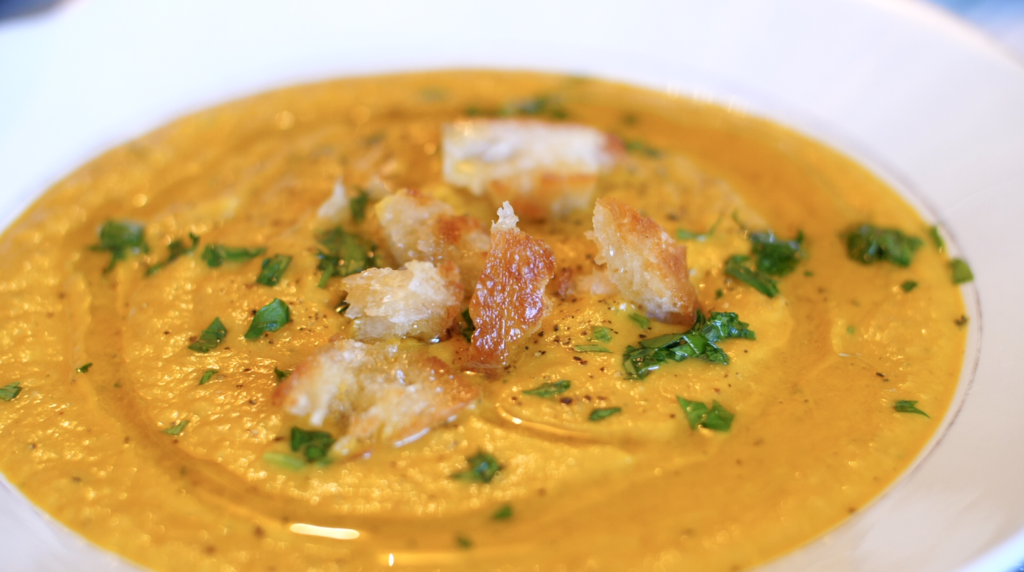 INGREDIENTS:
470g carrots
2 teaspoons cumin seeds
1 teaspoon coriander seeds (this is optional, the main flavour you want is the cumin)
1 red onion (35g)
65g fresh ginger
1.2 litres water
2 vegetable stock cubes (10g each)
75g pancetta diced
150g ricotta
24g parsley
salt
pepper
olive oil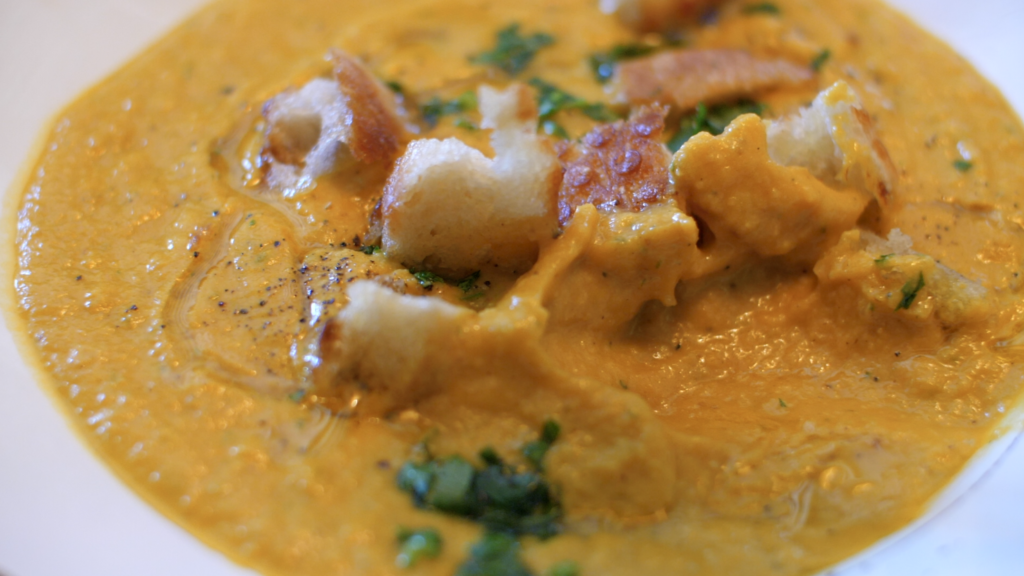 METHOD:
If you're adding pancetta, cook that first so it has the entire dry pan to itself to really crisp up. The golden edges create depth of flavour for our soup. In the video, I made this in a separate pan because I was going to make it vegetarian and then later decided to add the pancetta.
Grind the spice seeds (if you've bought them whole and not ground) and add to the pan with the chopped onion. Fry with a little olive oil for one minute or until the onion is transparent.
While the onion is frying, I like to boil the kettle so it expedites things and my water is already hot. If you're using pre-made stock instead of stock cubes, don't worry. Add water to the pan and dissolve the stock cubes.
Add carrots and cook for about 10-15 minutes or until the carrots are soft.
Pour half the liquid and carrots into the blender and add half the ricotta and some fresh parsley. Blend in two batches, with the centre ring of the lid off (if possible) so the steam can escape. If you have a larger blender, you can do it all at once – I just get worried about hot soup exploding everywhere.
Pour both batches into a pot to warm and season with salt and pepper. About a teaspoon of salt should do, depending on the sweetness of your carrots, the saltiness of your stock cubes and if you added pancetta.
Serve with some lightly toasted croutons, fresh parsley, extra pepper and a drizzle of olive oil.