These relatively healthy balls are the perfect solution if you want to make some festive treats for Christmas but have a problem with gluten or dairy or simply need to lower your sugar cravings. The chocolatey flavour is completely present thanks to the cacao and sweet fudge-like dates. I was unsure of what exact quantity to list for the dates because it really depends on your situation. If your aim is to make a delicious chocolate substitute without refined sugar and you just want a crowd pleaser, then go for 24 dates. If you're trying to cut down on even natural sugar and just want to ease yourself out of sugar cravings that hit around 4pm, then go for 12 dates for a subtle sweetness. These are packed with protein and good fats so they make a wholesome delicious energy hit all year round.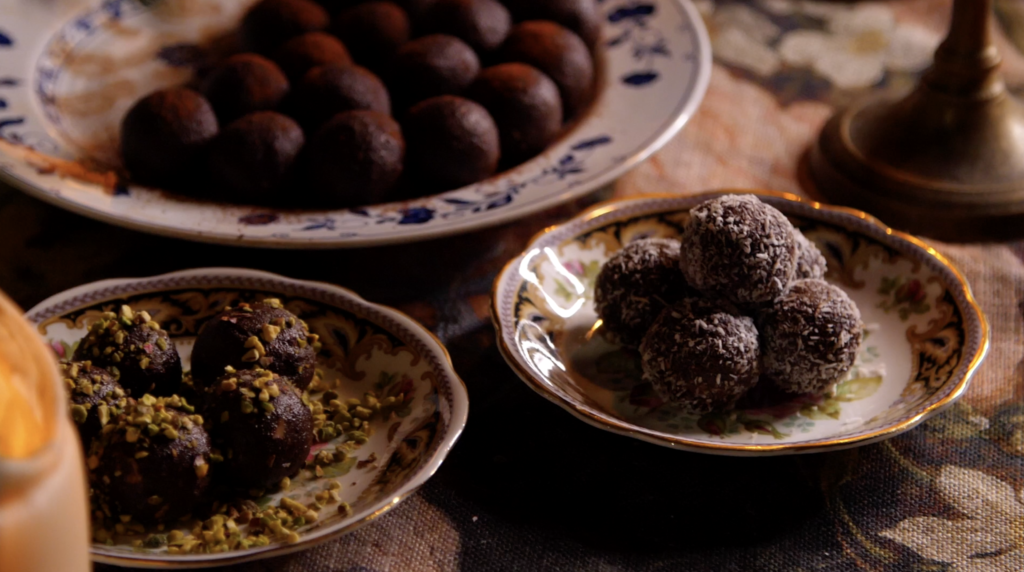 INGREDIENTS
2 cups soaked almonds
1/4 cup dark unsweetened cacao powder
12-24 pitted dates (this depends on the sweetness you prefer)
4 tablespoons tahini
2 tablespoons coconut oil
1 pinch of sea salt
OPTIONAL
Cinnamon or other spices
Cacao powder, finely chopped nuts or shredded coconut to coat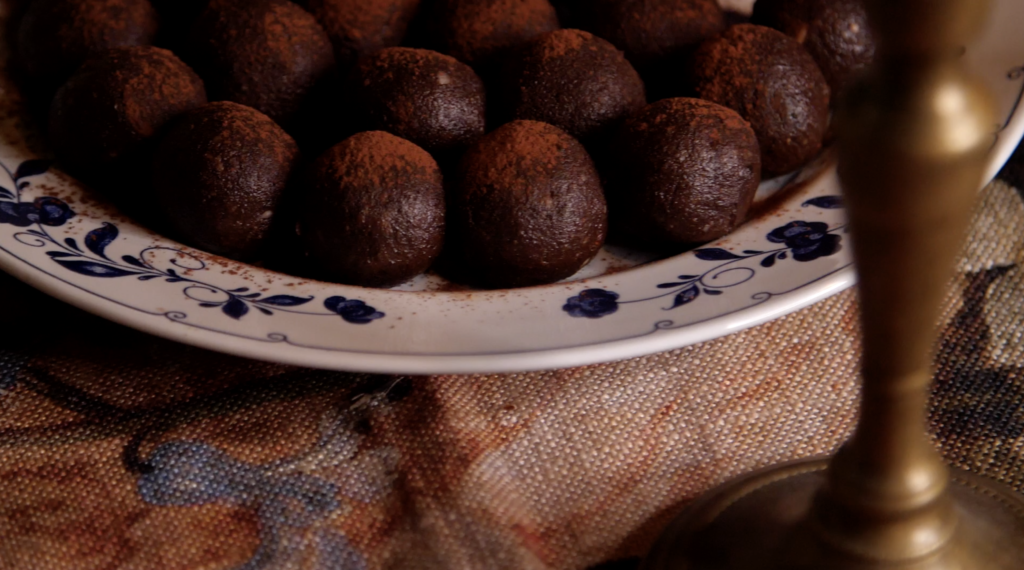 METHOD
For best nutritional results of absorbing the almonds' minerals and aiding digestion, my sister, who is a nutritionist and naturopath, recommends soaking the almonds in water overnight.
Blend the almonds first in a Nutribullet or food processor to a consistency where about 70% are blended and the rest are coarse to give your balls texture. I guess if you are without a powerful blender, you could use a combination of almond flour and some chopped almonds and mix the remaining ingredients vigorously, squishing it all together with your hands.
Add tahini, coconut oil, chopped dates, cacao powder, salt and any spices and blend well.
I like to pour the mixture out of the blender into a bowl and amalgamate it all a bit more with my hands to make sure it's evenly mixed before rolling into balls.
Unlike the chocolate truffles in this video, these balls are much more dense and easier to work with so after shaping into balls, you can roll them directly in cacao powder or coconut or nuts without needing to chill them in the fridge. That said, for best results, I like to chill them once coated for about 20 minutes before eating. Enjoy!