Sorry, I must be brief this time because I have to go prepare Christmas lunch and dinner! This made three trays of biscuits but it really depends on how big you cut your cookies and which shapes you choose. It was more than enough for five people. If you want to do these as gifts for friends or relatives and make a giant batch, you can easily double the quantities below.
Some recipes use just one whole egg for Occhio di Bue Biscotti but I prefer my recipe because it results in a rich, buttery shortbread that doesn't crumble or get dry after a couple of days – which is important if you're making these in advance as a gift.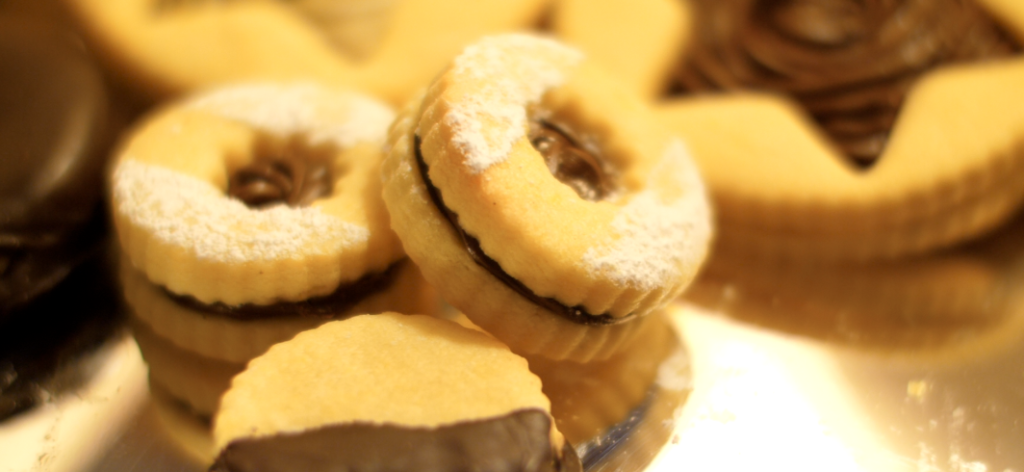 INGREDIENTS:
500g flour
200g powdered sugar
250g butter
1 tablespoon vanilla extract
4 egg yolks
Gianduia chocolate spread, Nutella, pistachio cream or marmalade jam to fill.
METHOD:
Sift flour and sugar into a bowl.
Chop butter and work in with your fingertips.
Add yolks and vanilla and work in again with your hands.
Form dough into a ball (don't worry, it will feel like it needs water or more liquid but it will eventually come together), cover and refrigerate for at least 30 minutes, if not overnight.
Roll out your dough but avoid kneading it or rolling it too much – this is a short pastry so it is better if you work it as little as possible.
Cut shapes and cook for 8-10 minutes in an oven pre-heated to 180degrees Celsius. TAKE THEM OUT WHEN PALE, NOT GOLDEN.
Leave to cool before spooning or piping in your filling of choice. 🙂