This dessert is elegant, easy to prepare and delicious. You could lower the amount of the sugar if you prefer your dessert a little less sweet because there is already the sweetness of the dates and the sauce. I've made this for five people in individual little cake tins, I've made for seven in a muffin pan, and I've prepared it in a normal springform cake pan. You will need to adjust the time in the oven. Individual portions cook much faster. When I'm hosting a dinner party, I will have the sauce all ready and then gently reheat it so that it warms the cake as well when it's time to serve dessert. I serve the sauce in a pouring jug for guests to add their desired amount of caramel sauce.
INGREDIENTS:
300 grams dates
1 tablespoon chopped fresh ginger
1.5 teaspoons bicarbonate soda
100-150 ml boiling water
100 grams butter for cake (plus a little extra to grease pan if not using baking paper)
125 grams butter for sauce
130 grams sugar for cake
1 cup (200 grams) brown sugar for sauce
2 eggs
2 teaspoons vanilla bean paste or vanilla essence
zest of an orange
185 grams flour
1.5 teaspoons baking powder
3 shakes of cinnamon
1 shake of nutmeg
150 ml cream
1 teaspoon salt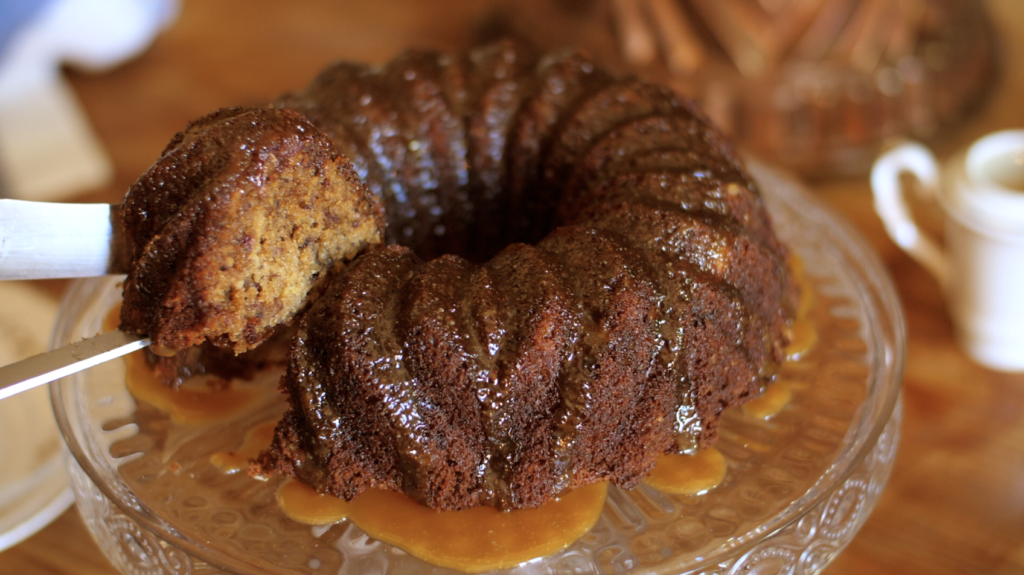 METHOD:
Chop and pit dates and place in a bowl.
Finely chop ginger and add to the dates.
Add bicarb, cover with boiling water and leave dates to soften for an hour.
Grease or line your pan with baking paper and preheat your oven to 180 degrees C or 350 degrees F.
Cream butter and sugar until pale and soft by beating with beaters or a wooden spoon.
Add the two eggs, one at a time, beating well between each one.
Add vanilla and orange zest and mix.
Sift the flour, baking powder and spices into the batter.
Check on the dates and see if they can be mashed into a thick textured consistency with a fork. If they're still too hard, you can lightly blend them in a blender, allowing a several date pieces to remain. Don't remove the water, you'll need it to blend them and it has the baking soda in it.
Gently fold in the date mixture, flour and batter.
Pour into your cake pan and cook for 30-40 minutes or until your cake becomes fragrant and just lightly golden.
NOW THE SAUCE. In a medium pan, simmer butter, brown sugar and cream, stirring occasionally until it bubbles into caramel. At this point, add a pinch of salt. Leave it to cool until you add more because we're less adept at seasoning well when something is piping hot. * If your sugar doesn't dissolve and crystallises and the butter separates, something has gone wrong and I advise you to start again rather than adding more butter and hoping it will come good.
The cake will be fragile when first out of the oven so just leave it to cool and firm up before removing from the pan. Meanwhile, if you would like to drizzle the sauce through the cake, you could skewer little holes into the cake and then pour over some of the sauce so that it infuses the whole pudding.
Now that you're ready to serve, just taste the sauce that has cooled a little to check if it needs more salt. Gently reheat it and pour into a jug to serve on the table. Serve pudding with vanilla ice cream and extra sauce.