No stand mixer, no problem. This recipe is a fairly simple treat to make for Easter and might even become a tradition in your family, creating your perfectly bespoke bun depending on whether you are partial to chocolate, dried fruit, spices or all of the above. You want to leave the dough to rise twice so that will mean roughly three hours of waiting. As I mentioned in the video below, I like the idea of baking these for breakfast or early morning tea so I left mine overnight in the fridge. They do keep for a few days – especially if you toast them like I did – but like any bread or pastry, they're really best eaten on the day they're baked.
The reason I was late in posting this recipe is that I wanted to bake another batch to test my measurements and this time, I got overzealous about the cinnamon. I love this spice and I wanted to see if I could make the buns a little darker inside. The second batch did not rise nearly as well and I couldn't work out why. Turns out, too much cinnamon can prohibit yeast from doing its job. So I then set about making a third batch, with adjusted measurements. I also wanted to test adding more sultanas. Too much sugar can also sometimes interfere with the yeast so if you like a little more sweetness in your buns, I'd add more sultanas instead of increasing the sugar.
This recipe makes 12 quite generously sized buns because I feel if we're going to go to all this effort and wait for them to rise, we may as well have a result the whole family can enjoy. Surprisingly, they're quite light so you may quite easily be tempted to eat two in one sitting.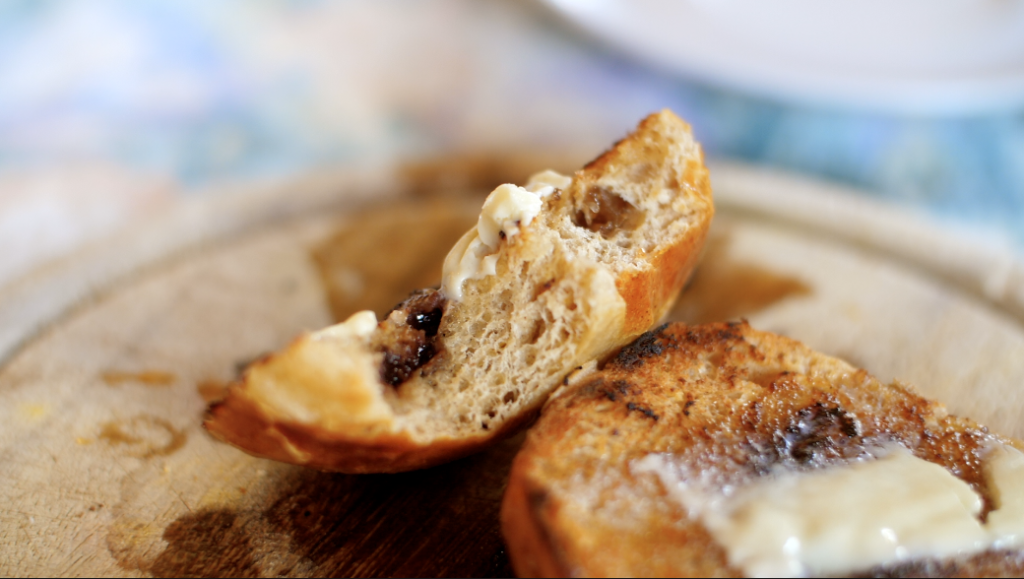 INGREDIENTS:
9g dry yeast
300ml milk + 2 tablespoons extra for egg wash
60g butter
*optional 1 orange (zest and juice) + the juice of an additional orange if you want a lot of glaze
*optional 200g sultanas
1 tablespoon vanilla extract
*optional 8g fresh grated ginger (as much as you desire, with this amount the flavour is very subtle so I think I could have added more)
*optional 90g diced candied orange peel
600g flour (bread flour is best, but I use normal flour) + 3 extra tablespoons for crosses
*optional 2 teaspoons cinnamon
*optional 1 teaspoon nutmeg
*optional 1 teaspoon ground cloves
1/2 teaspoon salt
100g brown sugar + 2 tablespoons for glaze
*optional 90g – 125g chocolate chips (depending on how much chocolate you like)
2 eggs (1 for the mixture, one for egg wash)
4 tablespoons water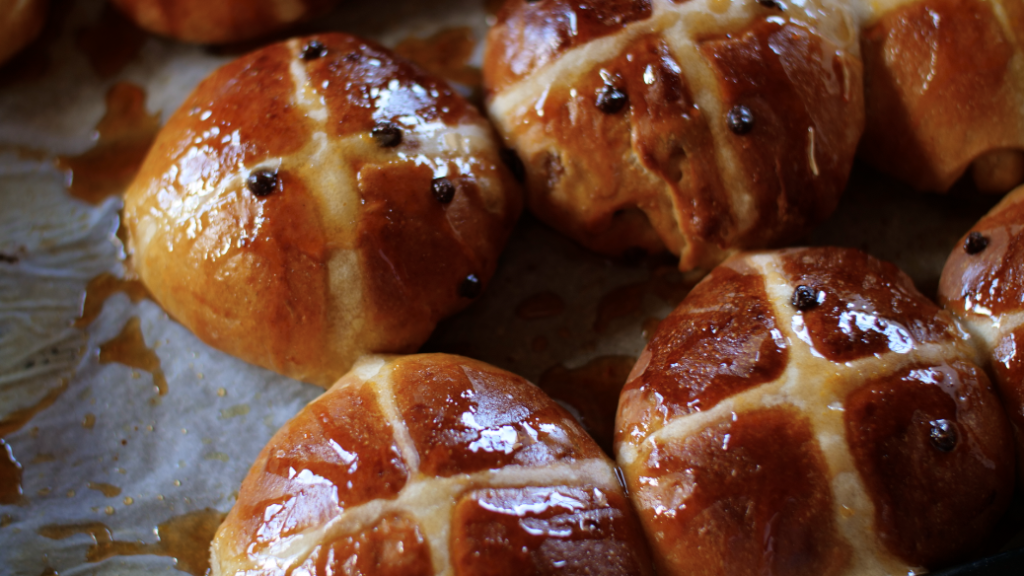 METHOD:
First it's good to do a test to check that your yeast can definitely be activated to help your buns rise. Take a little of the 300ml of milk and heat it on low until it is warm enough to comfortably rest your finger. Liquid that is hot will kill yeast. So just make it lukewarm. In a little bowl or cup, pour the warm milk, a teaspoon of the sugar we're using later, and the yeast and leave it for 15 minutes or so to foam up.
Heat the remaining milk and butter. When the butter is melted, take off the heat to cool before we add to the mixture later.
You might like to plump your sultanas to bring them back to life and give them a little more flavour by soaking in orange juice. I like to zest the orange first – you can grate it directly into the milk and butter or just put aside to add later. Then juice the orange, pouring the juice into a bowl with the sultanas. Leave them to rest for as long as possible. I just made this recipe again today and used Vin Santo as well as orange juice.
Now in a large bowl, mix flour, spices (cinnamon, nutmeg, cloves), and salt.
Pour in the milk/butter/orange zest liquid. Add 1 egg, lightly beaten. And also the foamed yeast. Yeast shouldn't touch salt directly so this is why we mixed it in earlier.
You can mix it together with your hands and then add the dried fruit (sultanas drained from the orange juice and candied orange pieces) and chocolate. In the video I added the chocolate chips later in case my hands warmed them while kneading, but also so that I could distribute the chips evenly into each bun. However, I don't think this is necessary. Although, when I was kneading this third batch today, the choc chips kept falling out of the dough so you may like to add them later for that reason. I like to bring it together into a ball in the bowl while it's still sticky so I don't make too much mess on the bench. If your dough doesn't look as wet as mine in the video, add a little more water until it feels quite sticky. No more than 100ml of water.
Now turn the dough onto a very lightly floured bench and knead for 15 minutes. It will be sticky in the beginning and then gradually become smooth and homogenous. You don't want to over-knead it but I think people are more at risk of not kneading enough.
Grease a large bowl with olive oil and place the dough inside to rise. You will need to cover this airtight so you could use a large container with a lid or a recyclable plastic shopping bag (as I did in the video) or cling wrap. The dough needs a warm resting place out of the wind and I like to put mine in an oven with the light on. Not too hot, not too cold and airtight. The time it takes to double in size will vary depending on your flour and the humidity in your environment, however, I would say 1-2 hours. I left mine for two.
When it has risen, punch it down to remove the air and form a long log and cut into twelve pieces. You can weigh each piece to check they are all a consistent size. At this point, you could add your chocolate chips, if you haven't already done so, to ensure every single bun has an even amount of chocolate. I pinched the sides up to the middle, like a little sack, then turned it upside done, cupping a little with my palm if it wasn't round enough. These will spread quite a bit, so it's not so important to have them perfectly shaped. Be sure to place your buns on the baking tray you intend to cook on with some baking paper.
Now cover and place back in the (switched off) oven with the light on to rest for another hour.
I wanted to go to sleep and bake in the morning so once the buns had risen, I put them (covered) in the fridge overnight. The next morning I took them out of the fridge for an hour to reach room temperature before baking. We can make the glaze, egg wash and the crosses while waiting. Now is a good time to preheat the oven to 180 C or 350 F.
Whisk a little milk into one egg and brush (or gently spread with your fingertips as I did) the egg wash over the buns.
In the video, I made an excess of mixture for the crosses – you don't need this much. If you have a piping bag, you may like a greater quantity to pipe thick crosses. However, using only a spoon to drizzle, I wanted a more watery consistency to give me more control. Mix the flour and water together with a fork or whisk until it resembles a runny glue. You may be thinking, this isn't going to taste very nice but surprisingly, it works and the taste is just neutral. The measurements above for the 'cross mixture' are quite rough. I would add a little flour and water at a time until you get the consistency and quantity you desire.
Once your buns are egg-washed and crossed, pop them into the preheated oven for 20 minutes or until golden brown.
Now, for the glaze. Some people heat up apricot or orange jam. Do you still have that leftover orange juice we soaked the sultanas in the day before? If not, just juice another orange. Put it in a pan with the extra brown sugar and heat on low until the sugar has dissolved.
As soon as the buns are out of the oven, pour or spoon the glaze over them so it runs smoothly over their curves while they're still hot. It's best to avoid biting into them right away. The bun texture improves dramatically once they are left to rest and cool. I like to slice mine open and place them in a dry fry pan to toast their insides. (I think if you use a toaster you could end up with a burnt mess and sultanas stuck in the base forever.) Spread a generous layer of butter and enjoy as many as you can because these are really at their best on the day they're baked!