Simple, gluten-free and deeply satisfying. Make a day in advance to be sure it has time to set overnight in the fridge.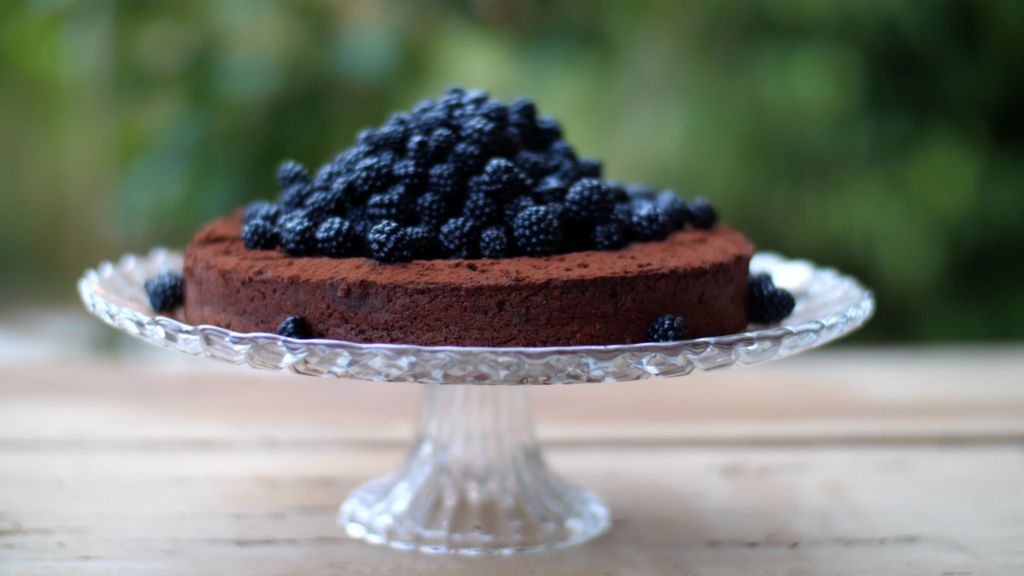 INGREDIENTS:
200g dark chocolate (50-70% cacao)
200g butter
6 eggs
200g sugar
1 tablespoon dark unsweetened cacao powder (plus extra for topping cake if desired)
200g almond meal/flour
*blackberries optional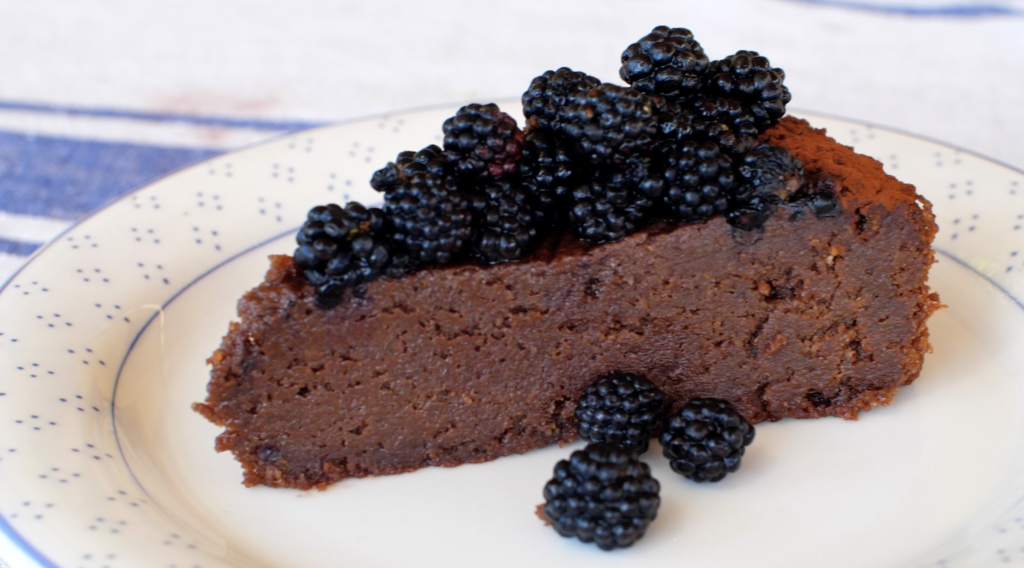 METHOD:
Preheat oven to 170 degrees C (338F), line a springform pan with baking paper and grease sides with butter. I used a 22cm (8.5 inch) pan.
Heat a little water in a pan on low and gently melt broken chocolate and butter. You don't want to heat it too much so take it off just before it's all turned to liquid. Stirring the chocolate off the heat will melt the remaining butter.
Separate your eggs into two large bowls. Set aside the whites for later.
Whisk the sugar into the yolks.
Sift in the cacao powder.
Pour in the now warm (not hot) chocolate and butter mixture.
Stir in the almond flour.
Whisk the whites into puffy mountains.
Take a quarter of the whisked whites and stir into the chocolate mix. Now add another quarter.
For the final half of the egg whites, we want to protect the air we've whisked, so gently fold them in without stirring too much.
Pour into the cake pan and cook 30 minutes or until the top is crisp and the centre in tender but the cake doesn't wobble when you shake it. As I mentioned in the video below, I prefer a moist tender cake but I do give it at least 24 hours in the fridge to set. If you want to cut neat solid slices straight away or within a few hours, you may need to leave it a little longer in the oven OR add more almond flour to make it more dense. When it has set (covered) in the fridge, top with sifted cacao and fresh blackberries that have been tossed in a little powdered sugar. This cake keeps well in the fridge for several days.