This is one of my most favourite Italian dishes to prepare, especially in a rustic Tuscan villa, overlooking the hills with a fire crackling in the cucina. I've been trying to think about the best way to write up this recipe because a dish like this is really perfect for so many occasions – an impressive dish for a romantic date for two, a cosy dinner for a family of four, a guaranteed crowd pleaser for a dinner party of eight. If you've seen my video for this recipe, I think you can basically absorb the fundamentals and adjust according to your preference and number of guests. However, I'll try to put some tips below to help you get maximum flavour and assist anyone who's not that confident in the kitchen.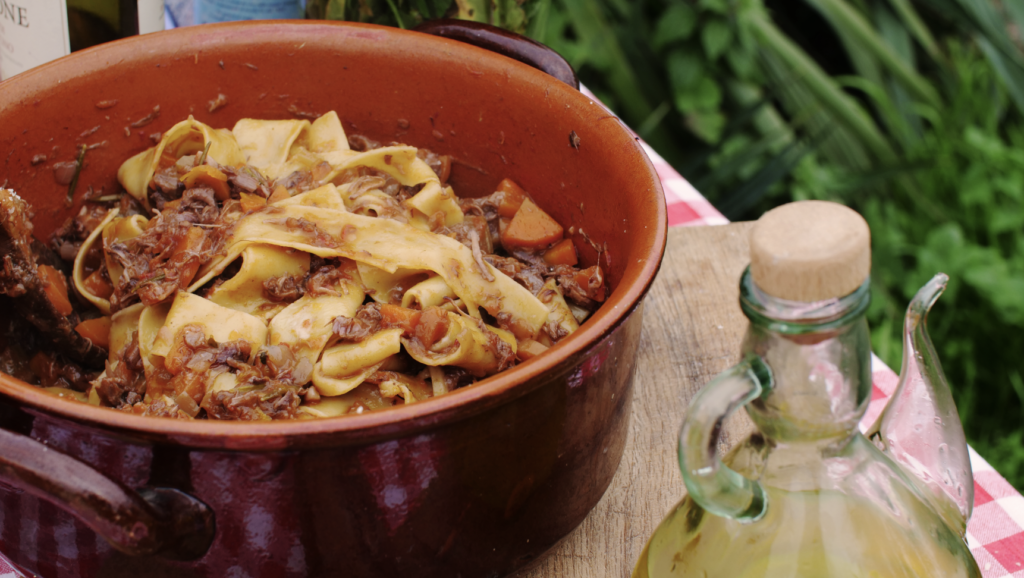 INGREDIENTS
Beef:
I would say you could use between 800grams and 1.2kilos of meat. Even less than this is still going to give you enough for two people but I always like to have leftovers and serve each dish with a hearty serving of meat. You can buy even a cheap cut because the time we're devoting to slow cooking is going to create all the flavour.
Vegetables:
Carrot – perhaps one medium carrot per person/serving.
Celery – one stalk per person/serving.
Onion – half an onion per person/serving.
Garlic – one clove per person/serving.
Pancetta – 25g per serving but a minimum of 100g to give the base of your sauce that lovely smoky flavour.
Olive oil – just enough to lubricate your pot for the meat and the soffritto so about one third of a cup.
Butter – same as above so 150 grams (about one and a half sticks)
When thinking about the quantities of the wine and tomato purée, basically you just want to cover your meat and vegetables completely and leave enough liquid for the sauce to really simmer down and become quite rich and concentrated without it all drying out. You still want to have liquid left to coat the pasta. So I would just add a combination of tomatoes and red wine until your meat and vegetables are well covered as you see in my video.
Tomato purée/ crushed canned tomato/ tomato passata – whether it's 300ml (half of a bottle) of passata or two cans of polpa di pomodoro, it's really dependent on how much you like a tomato flavour in your sauce.
Red wine – any cheap cooking wine. I like to use about 700ml but if you want, you could also dissolve a beef stock cube in a litre of water if you don't have any wine or want to use less wine.
Herbs!! Don't skip this part because all those hours gently cooking are perfect for the herbs to gradually infuse their perfume and flavour into the sauce. I used bay leaf, thyme And rosemary. Put them in whole so they're easy to take out later.
Salt, pepper, and a tablespoon of sugar.
Pappardelle or a thick wide pasta – not thin spaghetti, this sauce wants to be embraced by a pasta that can carry the weight of rustic chunks of meat.
Parmigiano or Pecorino cheese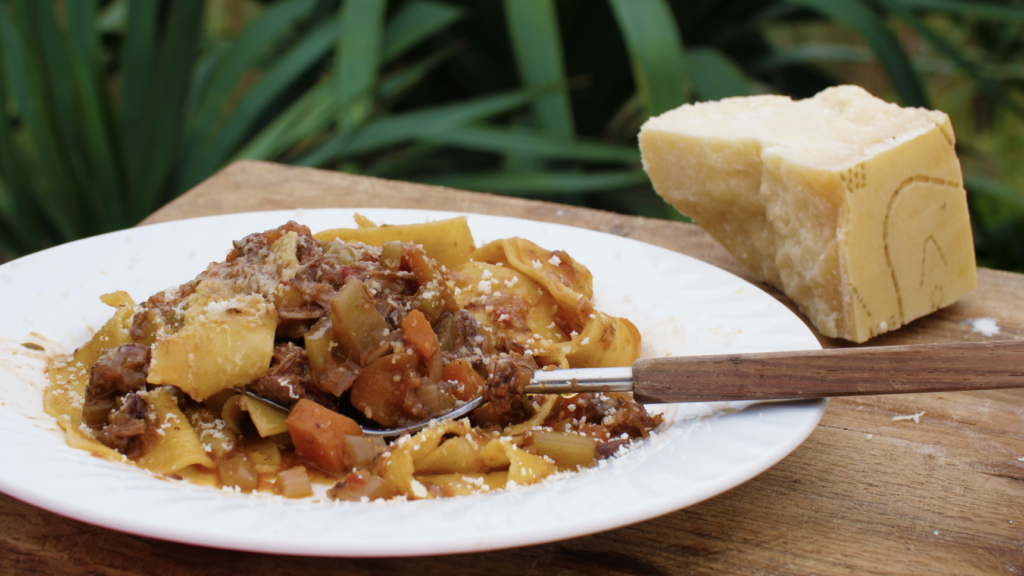 METHOD
Take your meat out of the fridge and bring it to room temperature.
While you're waiting for that, you can prepare your vegetables. Chop onion, carrot, celery and garlic (leave the garlic in a separate pile on your chopping board).
Roughly chop your meat into medium sized cubes, salt generously and put a little butter and olive in a wide frying pan or large pot on a high heat.
You really want to hear the meat sizzle as soon as it touches the pan so wait until it is very hot so you get that lovely golden effect on the outer edges of the meat. Just turn each piece once and cook in batches so you don't crowd the meat. Once light brown on all sides, remove meat and put aside on a plate until later. Remember, it doesn't need to be cooked through at all. We're just creating a lovely foundation because the golden parts of the outer edge will break down and create a delicious rich salty flavour. This is called the Maillard reaction.
If you were cooking in a frying pan, switch now to a heavy pot with high sides. Start again with a little butter and olive oil and fry off cubes of pancetta until slightly golden.
Add the celery, carrot and onion and stir on a medium heat until the onions are transparent. Then add your garlic for a another minute.
Now we add our meat back in and, as I explained above, we really just want to cover everything generously with liquid so add your tomato purée and red wine and herbs and cook on a medium heat until it is just simmering (little not big bubbles).
Now cover your pot and leave it on the lowest flame possible for two to eight hours. You can check on it after an hour to make sure it's not sticking to the bottom but if your flame is low enough and you have enough liquid, it shouldn't burn or stick or need stirring at all.
When it smells wonderful and a few hours have passed, let the sauce cool down a little and then I like to get in with my hands and shred the meat in the pot. Some recipes say to transfer the meat out and shred with forks but I think this makes a lot of mess and it's easy to get a feel (literally and visually) for how thick you want your sauce to be when the meat is still in the pot with the liquid. Put a podcast on (you won't be able to touch anything once your hands are in the sauce 😉 and enjoy the tactile experience of the tender meat breaking apart between your fingers. It should be quite soft at this point and not need anything more than gentle pressing to fall apart, as I show in the video. Remove the stalks of the rosemary or any bay leaves. At this stage, when the sauce is not piping hot, I think it's easy discern if the flavours are balanced so this is when I add salt, pepper (and a spoonful of sugar, if you like your sauce to have a subtle sweetness to counter the salty smoky pancetta/beef flavour).
Now put some pappardelle on, return your ragù to a medium heat (particularly if you want to thicken it by cooking a little further with the lid off) and once the pasta is almost cooked and the starch has leaked out, reserve some of that starchy water to add to your ragù. Starchy water added to fat (the meat and butter and oil of the ragù) binds, thickens and makes a sauce velvety smooth so you can add a big spoonful of this to your sauce at this point and continue cooking on a medium heat.
Take your pasta out before it is fully cooked because you want to toss it for another three minutes in the ragù and there should be enough liquid in the sauce to keep cooking the pasta. As I'm sure you know, it is considered a tragedy in Italy to overcook one's pasta so I am always overly careful about taking it out when still a little chewy. At this point, when adding the pasta to your ragù you want to try to toss it as much as possible (maybe with a little more pasta water) to create that delicious thick amalgamated sauce.
Only add grated Parmesan or Pecorino cheese after the pot is off the heat and you are about to serve. I like to grate a generous amount into the pot and stir quickly and then another layer of cheese on each plate. Enjoy!! (And keep some of that starchy pasta water in case you have leftovers. It's better for reheating the sauce and making sure it becomes thick and not too watery and diluted.)