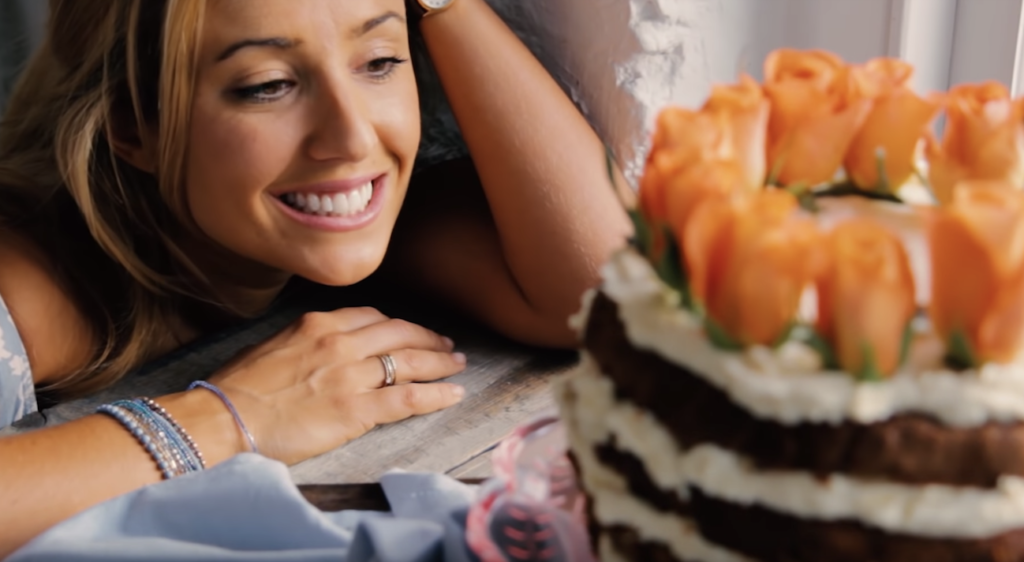 This is a recipe for simple, moist, gluten-free carrot cake, using olive oil and almond flour, with a creamy mascarpone frosting or icing. This is the best carrot recipe – not too dry, not some sponge-like thing you get on planes or from the supermarket that barely even has any carrot in it – this is textured, moist, slightly crisp on the outside and spiced with cinnamon. I do recommend grating your own carrots because store-bought pre-grated carrots have lost all their moisture so they would changed the result of the cake. I have sometimes cooked this with wholemeal (whole wheat) flour, when I can't afford almond meal. In that case, I just add the flour by sight and intuition until the batter resembles the same texture you see in the video. In fact, I rarely measure anything because there are so many variables like the size of your eggs or how juicy the carrots are, so it's good to get a familiarity with how your batter should look rather than just relying on measurement. In Italian they call it cooking "a occhio" or by sight. Sometimes I'll do half almond flour, half plain flour. Basically, the almonds are making this cake super moist and giving it that delicate crumb that you find in a torta caprese. You'll often find carrot cake served on the Amalfi Coast in hotels and bed and breakfasts for "colazione", although people don't associate it as being a very Italian dish. I love it because carrots are so easy – they are almost always in season and cheap to buy. Plus I may not always have butter in the fridge but I ALWAYS have olive oil. As I said in the video, in order to do this multi-tier cake I baked two cakes and cut both for a total of four layers.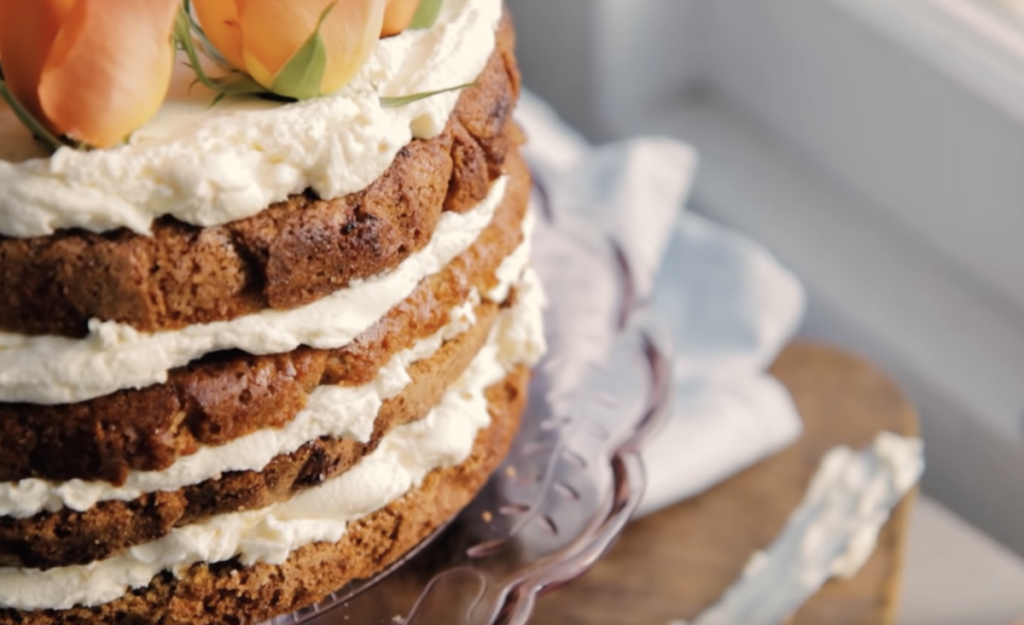 CAKE INGREDIENTS:
250g brown sugar
1/2 cup olive oil
3 eggs
1 teaspoon vanilla bean extract
300g almond meal
1/2 teaspoon baking soda (bicarbonate of soda)
1 teaspoon baking powder
1 heaped teaspoon cinnamon
1 pinch salt
250g carrots roughly grated (2-3 cups depending on how much carrot you like in your cake)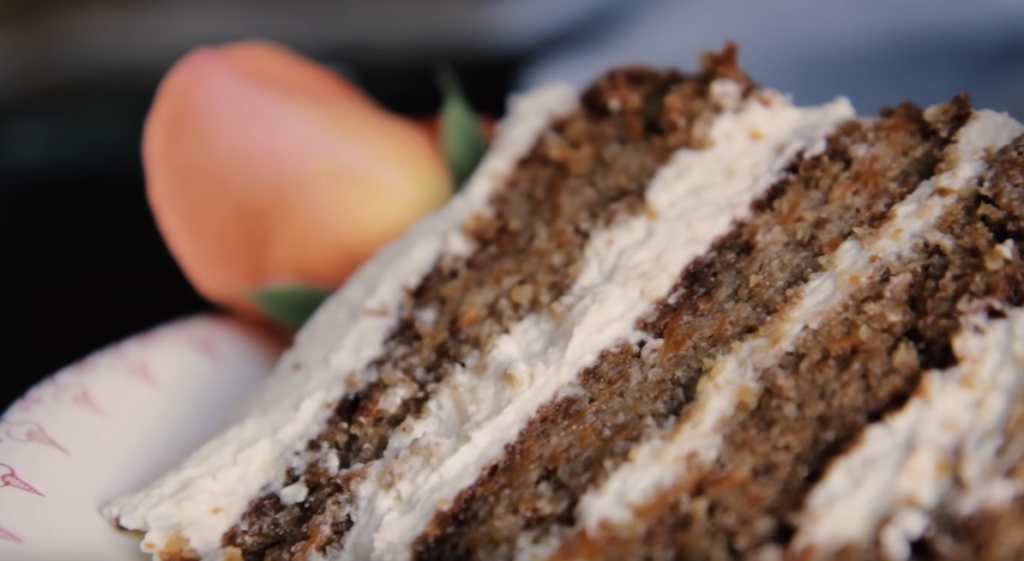 FROSTING INGREDIENTS:
500g mascarpone
1/4 cup icing sugar (powdered sugar)
1.5 cups cream (or as much as necessary until you get a spreadable texture)
1 teaspoon vanilla bean extract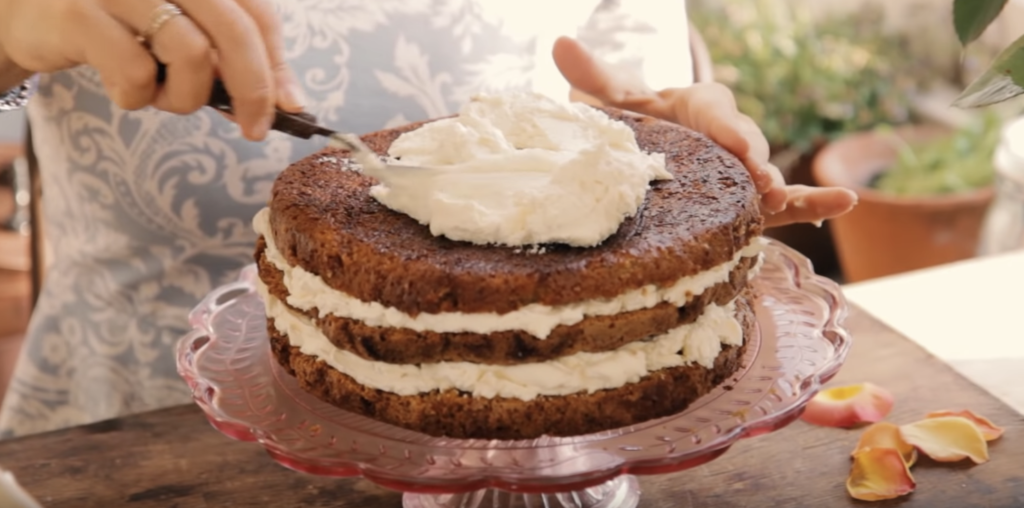 METHOD:
1. Preheat your oven to 180degrees Celsius or 350degreesF) and line a 20cm spring form cake tin with baking paper.
2.Grate carrots first because this is hardest part and it's good to get it over and done with. 😉 Try to grate them on the largest 'setting' of your grater. If you only have a grater that grates them very fine, then later on, just add about another 50g more of the almond meal to make up for the extra moisture.
3. Mix sugar and oil in a bowl.
4. Beat in eggs, one at a time.
5. Add vanilla.
6. In another bowl, mix almond meal, baking powder, baking soda, salt and cinnamon.
7. Combine the dry ingredients with the wet batter and the carrots. Stir until only just combined.
8. Pour into cake tin and cook in the oven for about 40 minutes or until the top is golden and crisp and a knife comes out clean when inserted into the centre. (I find different ovens affect my cooking times tremendously so just keep an eye on it after 30 minutes). Keep in mind, it will never feel as dry as a cake made with flour so don't worry if it looks a little moist on the inside even after 45 minutes.
9. As I said in the video, try to keep your mascarpone and cream out of the fridge while you are making the cake so that they are at a similar room temperature. Mascarpone can give the appearance of curdling if you mix it with a liquid of a different temperature or if you beat it too much or too fast. So don't do this part in the food processor. Just stir the icing sugar (and vanilla if you want – I forgot to mention this in the video) into the mascarpone and then add the cream, stirring slowly, until you get a texture that is stiff and spreadable.
10. To halve the cake, I cut carefully with a knife and then slide the pan from the springform tin in between the layers to lift it off safely without breaking the delicate crumb! This is going to be easier and more manageable when the cake has cooled so don't try to do it when it's hot out of the oven.
11. Ice your cake with the frosting and if you want, add flowers to the top with a little tin foil around the stems so you don't have the stalks mixing with the cream. And between the smell of vanilla, brown sugar and cinnamon, the decadent layers and the opulence of fresh flowers I promise anyone invited to tea or dessert will gasp, sigh and hug you. Xxx Kylie