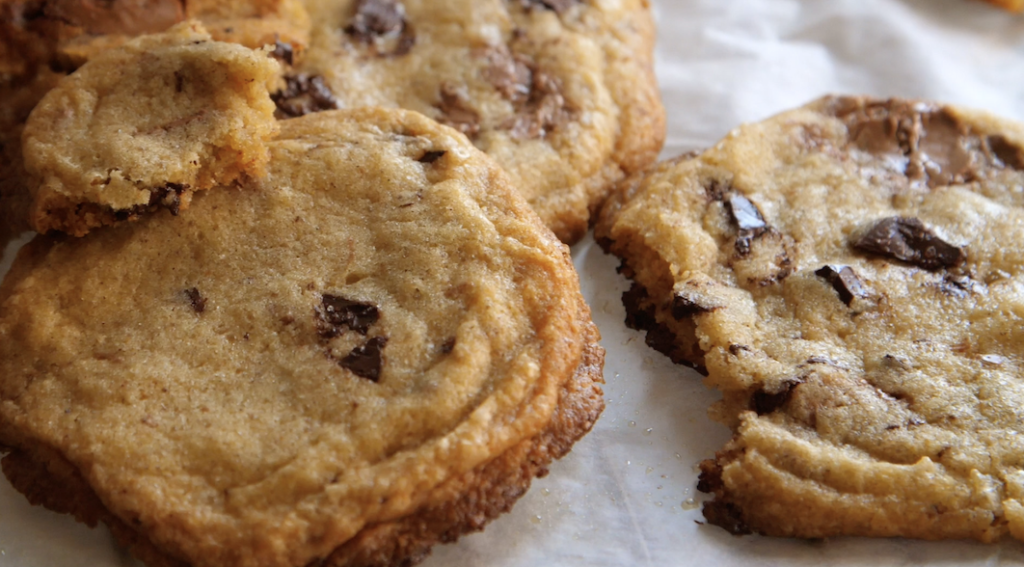 As I explain in this episode, I did a lot of research some years ago to work out the perfect recipe for crisp but chewy chocolate chip cookies. I have to say that the KINDEST and most LIFE CHANGING thing you can do for your cookie dough is to let it REST in the fridge. Trust me, it really changes things. You could add nuts to this. Once I even infused my browned butter with rosemary. You don't have to brown the butter – you could just beat all 250grams in with the sugar. But I do recommend this technique which is called beurre noisette in French. It gives your cookies a nutty, toasted flavour and greater depths of caramel. Try to use a light coloured pan so that you can properly ascertain exactly when the butter turns from yellow to that golden brown. It happens very quickly and you can usually smell exactly when the scent turns from butter to hazelnuts.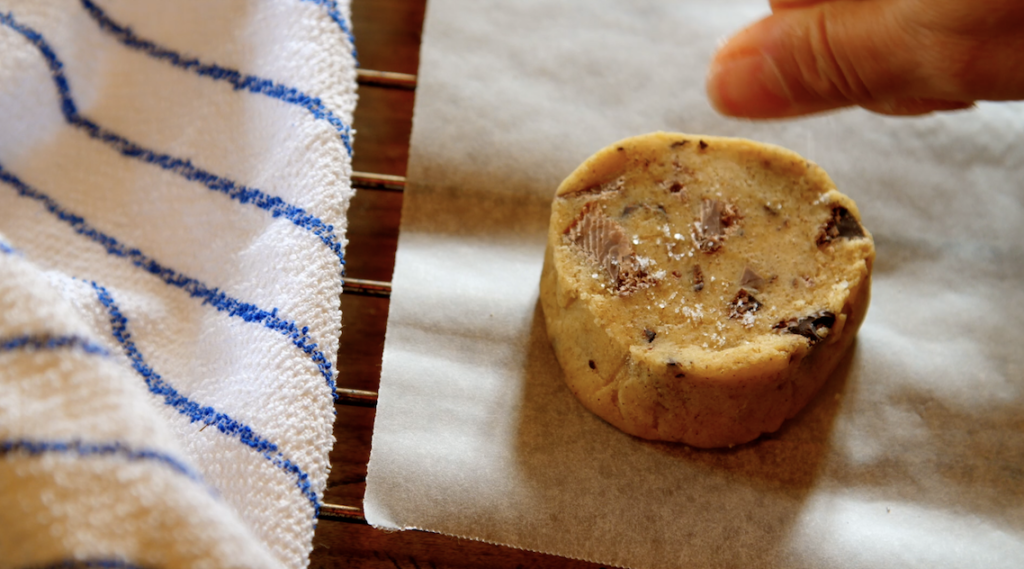 INGREDIENTS:
250 grams butter (half to make browned butter, half softened and chopped into cubes)
1.5 cups brown demerara sugar
1/2 cup white sugar
2 eggs
1 tablespoon vanilla extract
2.5 cups plain flour
1 teaspoon bicarbonate soda / baking soda
1 teaspoon sea salt (and extra to top if desired)
300 grams chocolate chopped (I used A LOT in the video but you could probably get by with 150 grams)
1 teaspoon cinnamon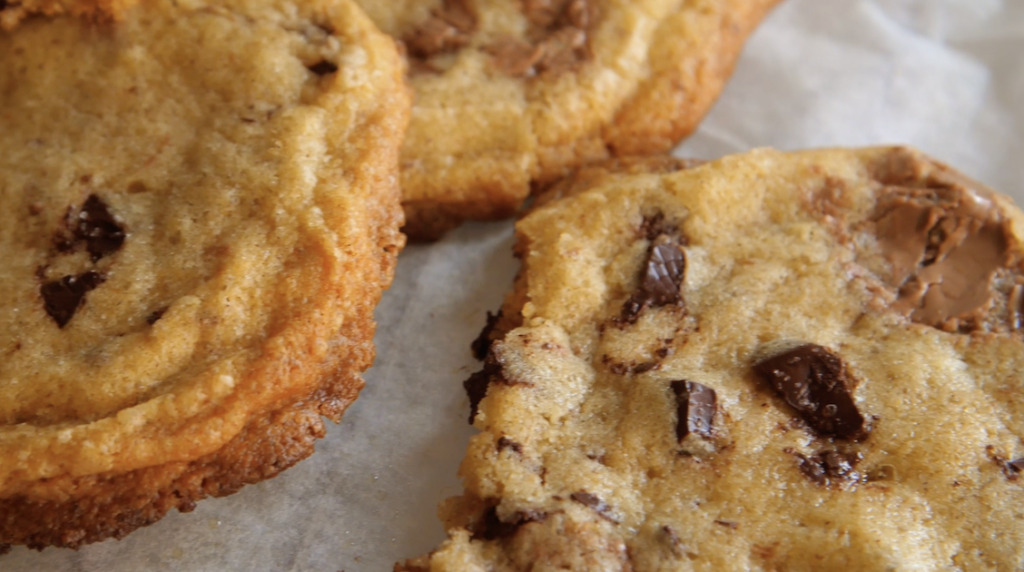 METHOD:
Halve your butter so that 125 grams in room temperature and cut into cubes and the other 125 grams is gently browned on a very low flame until it turns slightly golden brown, as shown in the video.
In a big bowl, beat your brown sugar, white sugar, the softened butter and the browned butter (and remember to scrape in all the hazelnut-flavoured sediments).
Add the eggs, beating one at a time.
Add the vanilla extract.
In a separate bowl, mix your flour, sea salt, cinnamon and bicarb soda.
Add this dry mix to your big main bowl with the wet mix, along with the chopped chocolate, and gently fold, being careful not to overmix.
Shape your cookie dough into a long log. (Yes, taste a little, you deserve it!) Tuck up your dough tight in baking paper and leave him to rest and dream sweet cookie dreams in the fridge for at least 12 hours.
Preheat your oven to 180 degrees C or 356 F, line a large pan with baking paper, and slice off THICK discs of your refrigerated cookie log. Don't be afraid to make them too thick but space them with lots of room between each one in case they spread. If cooking in batches, keep the remaining log or sliced cookie discs waiting in the fridge.
I like to top mine with sea salt and then pop into the oven for about 8-15 minutes, depending on how thick you've made them. A little tip… if part way through cooking, you find they're burning on the bottom, it could be because your oven tray is heating them up too much. Don't worry, you can still save them! Carefully slide the baking paper with the half-cooked cookies onto one of the oven racks instead so they get a bit of air and aren't sitting on a hot surface. Ask someone to help you because it's quite tricky to do if they're still a bit fragile and half-cooked. In fact, sometimes, I like to cool them like this (see photo below) to get air circulating and crisp them up a little without actually moving them individually when they're still hot and tender and fragile. GOOD LUCK!