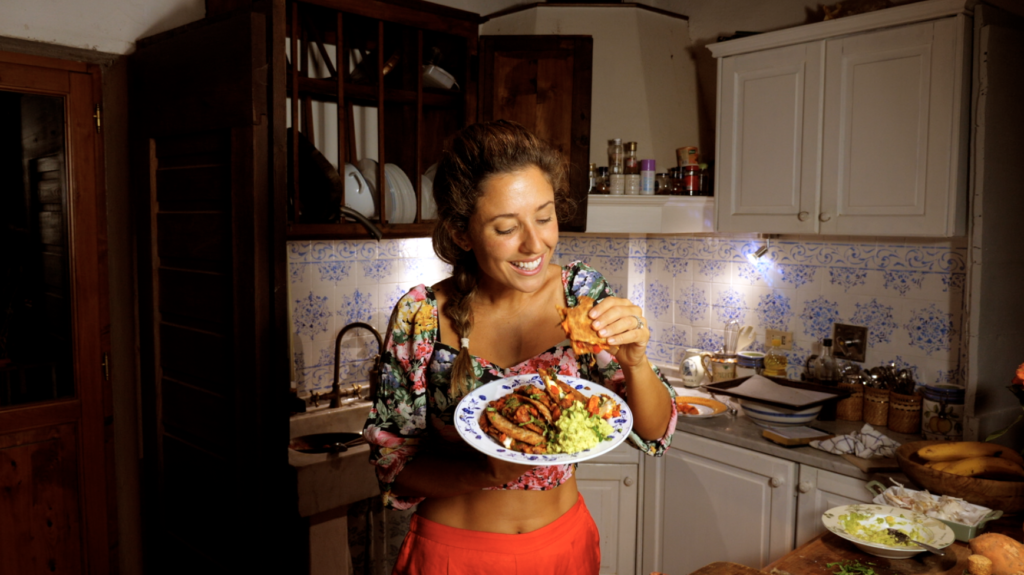 This is a recipe I cook quite often because it ticks so many boxes. It's nutritious, it's quick, it's quite inexpensive and uses ingredients I can easily find and it fills and satisfies anyone I might be dining with who is accustomed to eating meat and reticent to try vegetarian meals for fear they'll remain hungry.
As I mentioned in the episode below, I make this with four large portions, even if I'm just dining with Guido because these are very good the next day for lunch. Guido has a huge appetite and he is usually quite sated by one serving cut into four quarters.
Please feel free to add more chilli or more cheese according to your preference. You could make this with black beans but I find kidney beans are slightly plumper and mash better into a consistency that will hold all the filling together well.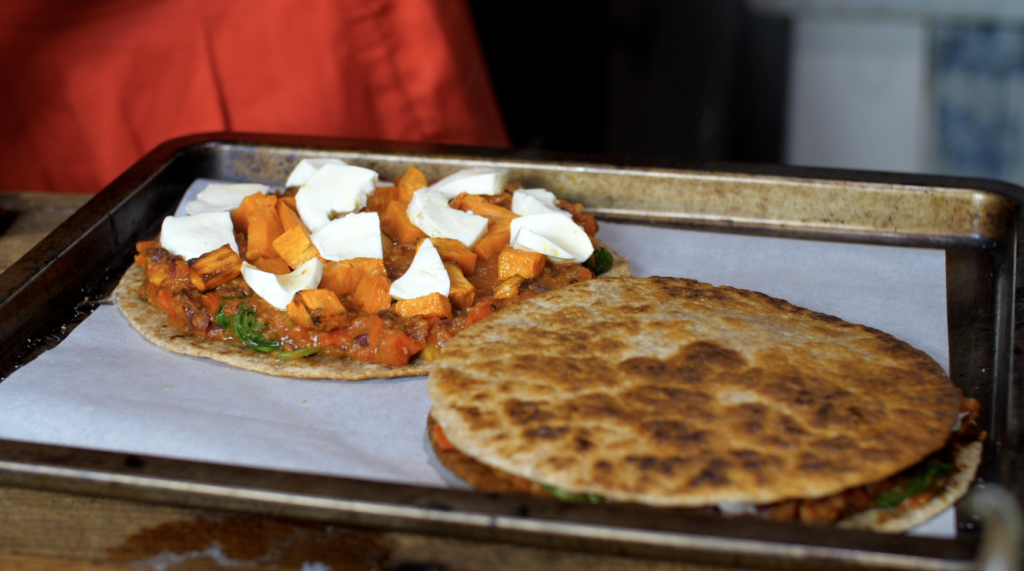 INGREDIENTS:
1 medium red onion
1/2 teaspoon turmeric
1/2 teaspoon chilli flakes
1/2 teaspoon paprika
Roughly a quarter cup of olive oil (for cooking the onions and for roasting the potatoes)
1 large capsicum / pepper
2 garlic cloves
1 large sweet potato (about 400-500g)
2 cans of crushed tomatoes (or 2 cups of tomato passata)
2 large pinches of sea salt (to flavour the sauce and to roast the potatoes)
2 x 200g can of kidney beans
Half a lime (juice and zest)
1 large avocado (400g)
8 wholemeal wraps/tortillas/round flat breads
4 tablespoons of oil to lightly fry the tortillas (coconut oil is the best for shallow frying at a high temperature but it's quite expensive so you could just use olive oil or vegetable oil)
250g mozzarella (this is me trying not to make them too unhealthy but obviously you're free to add double this amount)
70-100g spinach leaves
*optional fresh herbs like coriander/cilantro or basil to garnish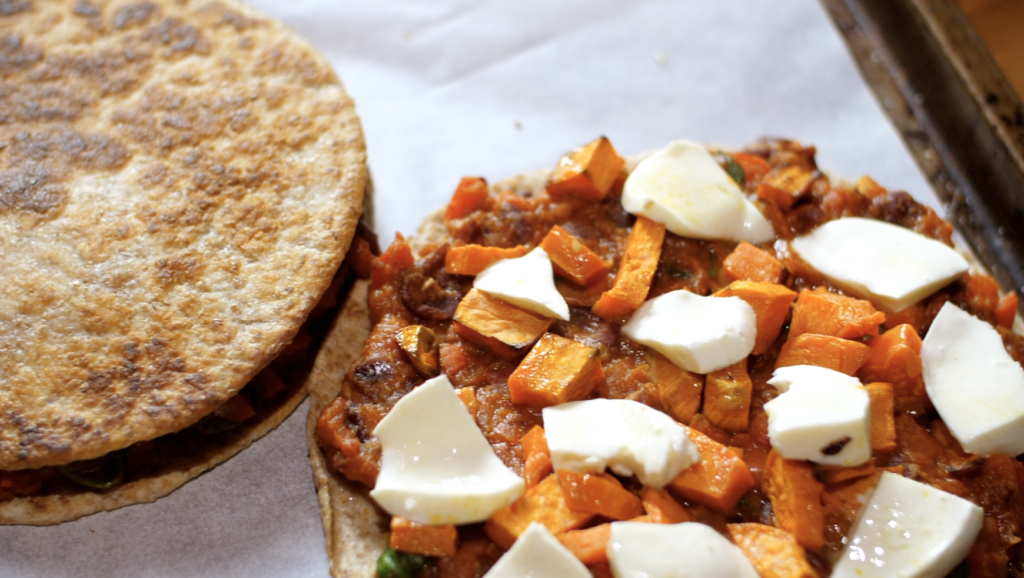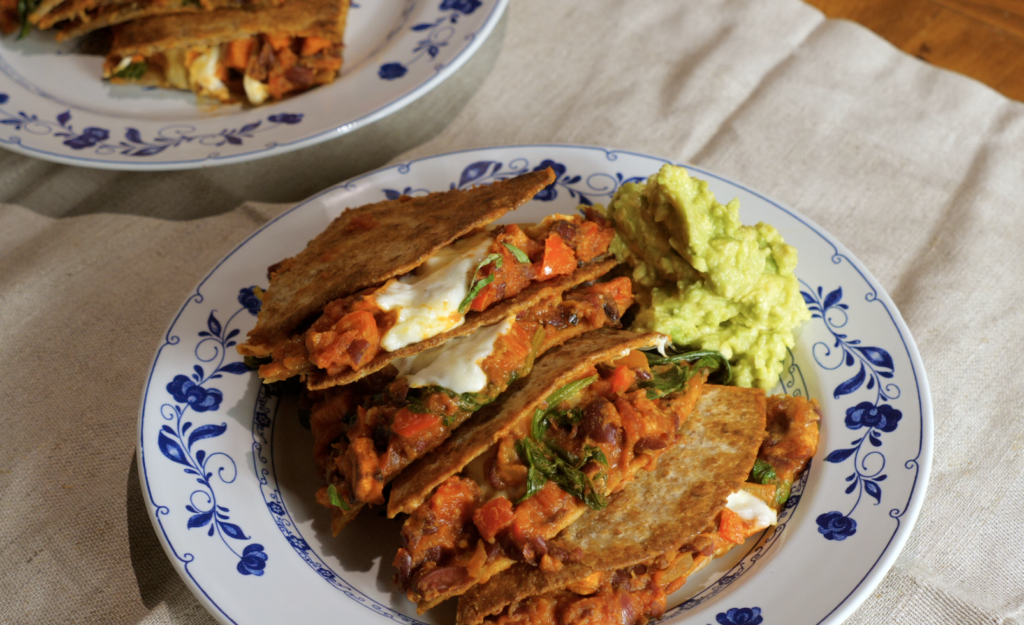 METHOD:
Preheat your oven to around 180-200C or 350-400F.
Dice onion into small pieces and cook over a low heat in a frying pan with spices (turmeric, chilli, paprika) and a drizzle of olive oil.
While the onion is softening, chop capsicum/pepper into similar sized pieces and add to pan.
Finely chop two cloves of garlic and add.
Start peeling and chopping the sweet potato.
At this point, you don't want to burn the vegetables, particularly the garlic, so add the cans of tomatoes. I tend to fill one of the cans halfway with water and add this too. Leave to simmer on a low heat.
Now return to chopping the potatoes and lay them on a tray with baking paper, a drizzle of olive oil and some sea salt. Put in the oven to roast.
Rinse the canned kidney beans and put into a bowl to mash. If you don't have a masher, you can do this with a fork.
Add beans to the sauce, gently stir and taste to see if it needs some salt.
Grate the zest of the lime into the sauce.
Cut open the avocado, mash, add a pinch of salt and squeeze in half the lime. (Be sure to wrap the other half so it doesn't dry out. Or I suppose this would be a great meal to have with lime cocktails of some sort or, if you don't drink alcohol like me, I like to squeeze the rest of the lime into my water.)
You may want to check on your roasting potatoes now and just turn them over and then put them back in the oven.
I like for the bread to be a little golden and crispy on the outside for crunch and visual appeal. As I mentioned in the video, I sometimes cook the bread in the pan but it can be quite challenging and you risk the filling falling everywhere when it comes time to flip it. When I don't know exactly what time Guido will be home, I like doing them in the oven so they remain hot and the cheese still soft and melted, not rubbery. So I lightly fry the bread in a pan with a little oil and then finish the whole thing later in the oven with the filling. Wholewheat bread can take a while to crisp up so I use this time to tidy up the kitchen while I'm waiting to do all eight tortillas.
Take your sweet potatoes out of the oven to cool a little (keep the oven on but turn it down a little) and chop your cheese to prepare for layering.
If you like, for added nutrition, you can add some spinach leaves to the bean filling. Just put a lid over the whole pan to make them wilt a little and then stir through.
With the filling done, potatoes roasted and the bread toasted, you can now layer a thick serving of the bean sauce, then potatoes, then mozzarella, then top with another tortilla and put in the oven just long enough to melt the cheese – about five minutes if your oven is still hot from the potatoes.
Cut into four and serve with the lime avocado and, if you like, top with fresh herbs like coriander/cilantro (which is impossible to find in Italy!!) or basil (much easier to find for me ;).